Advance Tabco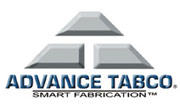 www.advancetabco.com

Since 1929, Advance Tabco has been manufacturing quality, long-lasting equipment. Advance Tabco is constantly evolving with the needs of new businesses to become a leader in the commercial products industry. In addition to its sanitary and eco-friendly

stainless steel products, Advance Tabco has been voted the Best in Class from 2001 to 2010 for sinks, worktables, and smart fab Custom Fabrication in a FE&S Magazine poll.